Free Dedicated Security Certificate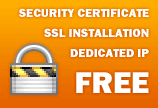 Get up to 4 Dedicated Security Certificates for FREE with our semi-dedicated hosting plan!
Free 256 bit True Single Root Security Certificate from Comodo(tm) with Free Installation!
How to get your free dedicated SSLs and free dedicated IPs:
Order any semi-dedicated server
Submit your order online — your account will be activated within 72 hours!
Submit support ticket to support.westnic.net for FREE professional installation!